There is nothing more luxurious than a relaxing vacation away from home. If you're a pet owner, however, it can be hard to relax while worrying whether the neighbor kid gave Oscar his meds or made sure Coco got enough exercise.
Our practice offers pet boarding so you never have these worries. You can kick back knowing that your beloved pets are properly cared for in a friendly, fun, secure and nurturing environment. Our climate controlled facilities remain clean and orderly at all times.
We provide comfortable bedding or bring along your pet's own washable bedding from home. Maybe Coco has a favorite toy that would make her feel more at home. Our kennels and condos have plenty of room for your pet to move around and make themselves comfortable. We even have adjoining rooms for pets in the same family.
Each pet gets plenty of physical exercise, fresh air, and sunlight. Our practice hosts social playtime in small groups or you can ask that we walk your pet individually. We provide top-notch nutrition, or you can bring food from home so that there is no change in your pet's diet while away from home. We know that sometimes change is stressful and your pet may not want to eat, it might be a good idea to bring along some treats or something to make their food seem more desirable.
We are well equipped to handle any ongoing medical needs your pet may have. We regularly administer oral medications, breathing treatments, IV or injectable medications or fluids. We also address individual feeding needs. We monitor your pet the entire time they board with us. Should they become sick or injured we would attend to their condition and communicate with you about the issue immediately.
If you have never boarded your pet before, we invite you to come down and tour our facility. We want to make sure that we are the right match for you and your pet. We want you to feel comfortable with the level of care and attention we provide and we want your pet to feel comfortable during their sleepover party. We require proof of current vaccinations for all pets boarding with us.
Admission Policies and Procedures
Arrivals and Departures
Guests arrivals and departures for Grote Vet Clinic are accepted Monday thru Friday 7:30am - 5:30pm and Saturday 8:00am-2:00pm.
Amenities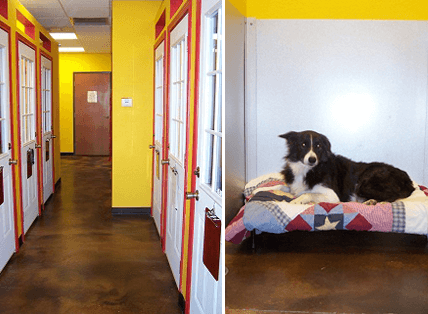 Your pet's stay with us will include:
In-room dining twice daily
Three daily outings
Twice daily housekeeping
Nightly turn-down service
Bedtime Treat
Vaccinations
We are committed to providing your pet with a safe and healthy environment. To do so, we require written verification of vaccinations from a licensed veterinarian upon arrival. The vaccination requirements below apply to any cat or dog visiting us.
DOGS: 
DHLPP - Required Annually
 
 
 
(Distemper, Hepatitis, Leptospirosis, Parainfluenza, Parvovirus)
 
 
 
Rabies - Required Annually
 
Bordetella - Required Every 6 Months
| | |
| --- | --- |
| CATS:  | FVRCP - Required Annually |
|   | (Feline Viral Rhinotracheitis, Calicivirus and Panleukopenia) |
|   | Rabies - Required Annually |
|   | Feline Leukemia - Recommended Annually |
To expedite the Check-in process we recommend that all vaccine records be submitted prior to your pet's arrival. For your convenience records may be faxed to us at: 817-599-9585
Food
We recommend a consistent diet to maintain intestinal health and minimize digestive upset. If your pet is on a diet other than Purina E/N Formula we strongly urge you to bring the food that is part of your pet's regular diet.
Medications
We will happily administer oral medications provided by the owner during their stay.
Emergencies
Should a problem arise in your absence, with authorization from the owner we will perform any necessary treatment to ensure your pet's good health.  We ask that you leave an emergency number where you will be staying or that of a friend or relative who would either be able to contact you or make a decision in your absence.  Related costs will be the responsibility of the pet's owner.
Admissions
We reserve the right to deny admittance to pets lacking proof of vaccinations and/or pet displaying signs of untreated or potentially contagious conditions.  We reserve the right to charge handling fees for excessively difficult or aggressive pets requiring additional staff and/or additional time in order that we may deliver proper care.
Grooming
We also offer discounted bath prices for all our guests.
Please contact us for more information about grooming.